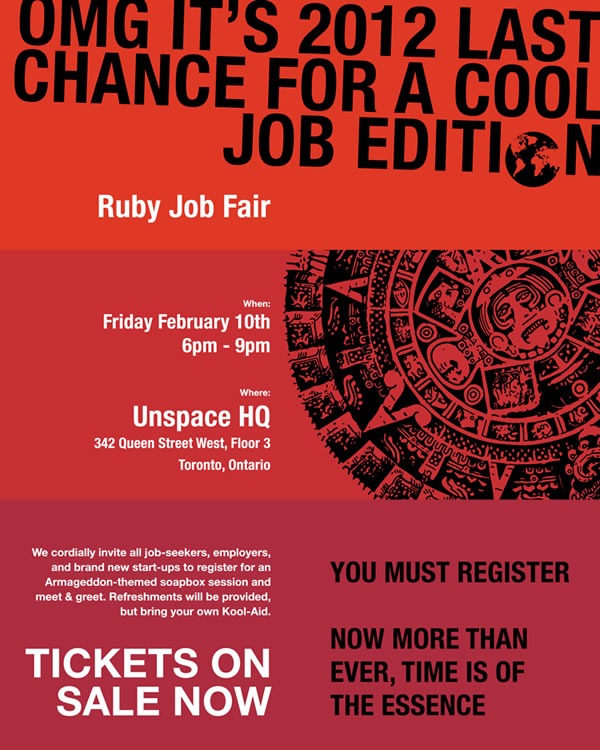 Don't forget: the Ruby Job Fair takes place tonight at Unspace headquarters (342 Queen Street West; it's the door just to the right of Lululemon)! If you're looking for work that involves Ruby programming or if you're an employer looking for Ruby developers, you'll want to be at this event, which is more cocktail social than career fair. Yes, there will be a bar.
The event takes place from 6:00 p.m. until 9:00 p.m.. DO NOT show up early! They'll either be wrapping up the day's work (remember, Unspace is a development shop) or prepping for the event. If you plan to show up fashionably late, please note that the employers are doing their three-minute "soapbox" spiels starting at 6:30.
There's a small registration fee to help cover the costs of holding this event: it's $5 for people looking for a job; $15 for employers looking for Ruby developers. You'll get a lot of bang for your buck at this event. Click here to register for the event, and do it before the tickets run out!

If you're looking for Ruby work at one of the most successful startups around, you might want to consider Shopify. I'll be there tonight as Shopify's representative – find me (I'll be the guy with the accordion) and we'll talk.
If you're looking to find out more about Ruby Job Fair, check out the Ruby Job Fair site as well as my earlier article on the Fair.