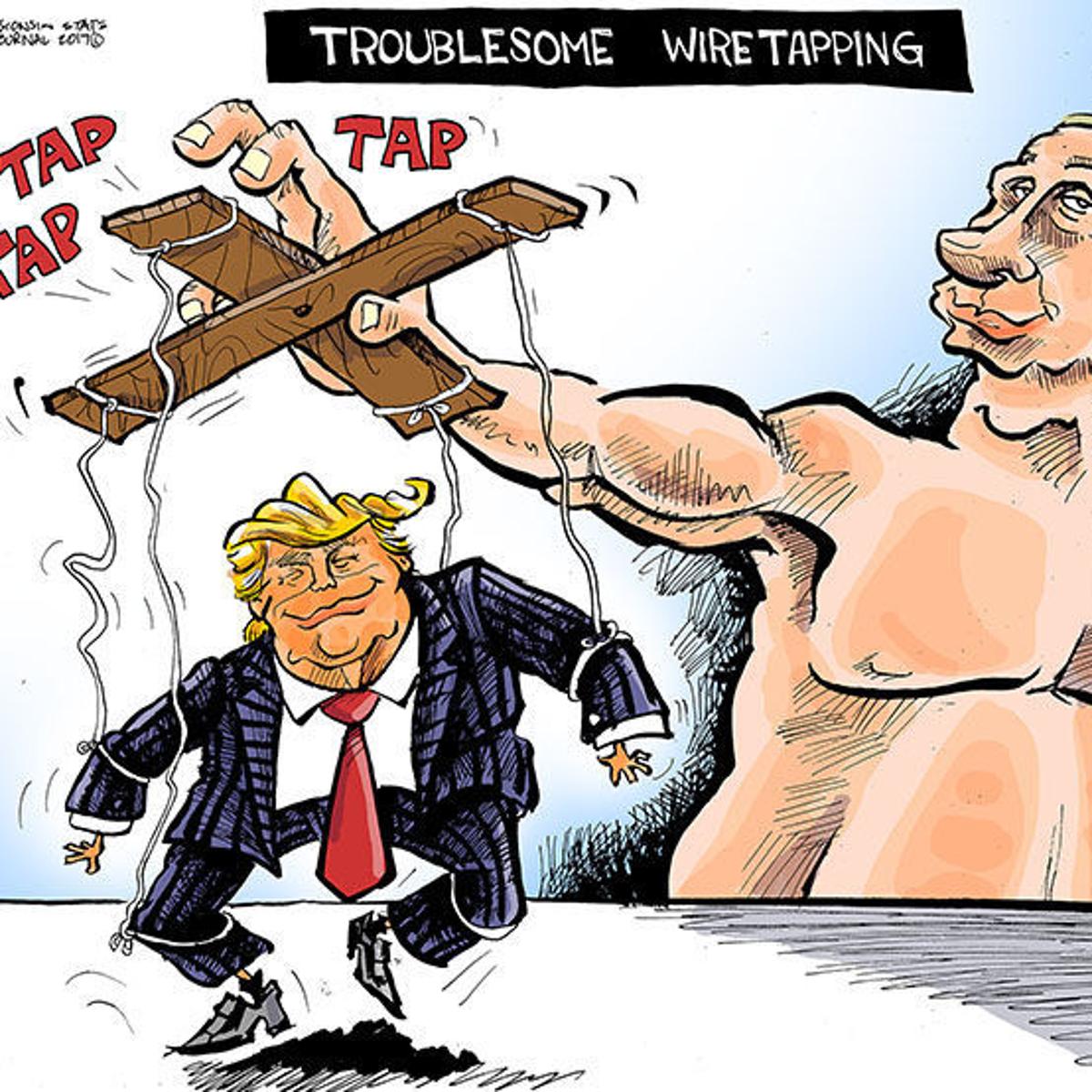 For your edification, here's a selection of links that illustrate Trump's being a Putin fanboy, the Republican Party's and alt-right's fandom of Russia, and of course, how it all relates to the current situation in Ukraine.
2016
Washington Post, September 9, 2016 — Trump moves praise for Putin closer to the mainstream of the GOP
Business Insider, December 10, 2016 — 'A model for civilization': Putin's Russia has emerged as 'a beacon for nationalists' and the American alt-right
QZ, December 22, 2016 — How Russia surpassed Germany to become the racist ideal for Trump-loving white supremacists
2017
Daily Beast, April 13, 2017 — Meet the Moscow Mouthpiece Married to a Racist Alt-Right Boss
Chicago Tribune, May 3, 2017 — Donald Trump's peculiar obsession with authoritarian leaders
Newsweek, August 16, 2017 — Charlottesville's Alt-right Leaders Have a Passion for Vladimir Putin
2018
ThinkProgress, June 10, 2018 — Why is this Pizzagate truther meeting with a Russian neo-fascist?
Washington Post, July 16, 2018 — Trump is a Putin fanboy. Someday we'll know why.
Politico, July 16, 2018 — Putin: I wanted Trump to win the election
League of the South, July 17, 2018 — To our Russian friends
Angry White Men, July 22, 2018 — Russia Insider Mixes Pro-Putin And White Nationalist Propaganda
2019
Politico, September 21, 2019 — Trump Didn't Bribe Ukraine. It's Actually Worse Than That.
American Progress, October 2, 2019 — Trump's Extortion of Ukraine: A Complete Government Shakedown
New York Times, November 12, 2019 — Trump, Ukraine and Impeachment: The Inside Story of How We Got Here
Just Security, November 26, 2019 — Trump's Hold on Ukrainian Military Aid was Illegal
NPR, December 6, 2019 — Why The Trump Decision To Delay Aid To Ukraine Is Under Scrutiny
Center for Public Integrity, December 13, 2019 — Timeline: How Trump withheld Ukraine aid
Foreign Policy, December 18, 2019 — In Historic Vote, House Impeaches Trump Over Ukraine Scandal
BBC, December 19, 2019 — Trump impeachment: How Ukraine story unfolded
Wikipedia's entry on the Trump-Ukraine scandal
2020
USA Today, January 30, 2020 — Trump is being impeached over an extortion scheme, not a 'policy dispute'
BBC, February 5, 2020 — Trump impeachment: The short, medium and long story
Just Security, February 6, 2020 — Confronting Russia's Role in Transnational White Supremacist Extremism
Forbes, August 18, 2020 — Trump Wrote Putin To Congratulate Him On Being Named TIME Person Of The Year
2021
The Atlantic, August 1, 2021 — What I Heard in the White House Basement [by Alexander Vindman]
Business Insider, August 20, 2021 — Trump told Putin 'I'm a big fan of yours' and asked him to be the guest of honor at a Miss Universe pageant, in a series of fawning letters
Forbes, December 8, 2021 — Tucker Carlson Accused Of Promoting Russian Propaganda As Putin Masses Forces On Ukraine Border
2022
MSNBC, January 21, 2022 — It's not just Tucker Carlson. The right's soft spot for Putin is also well documented.
"I gotta be honest with you, I don't really care what happens to Ukraine…I do care about the fact that in my community right now the leading cause of death among 18-45 year olds is Mexican fentanyl that's coming across the southern border." – @JDVance1 #OHSen pic.twitter.com/nf6MUzdWM5

— JD Vance for U.S. Senate Press (@JDVancePress) February 19, 2022
Haaretz, February 19, 2022 — Tucker Carlson, Josh Hawley and Donald Trump: Putin's Dream Team, but America's Worst Nightmare
NBC News, February 22, 2022 — Trump praises Putin's 'genius' as GOP fissures grow on Ukraine crisis
Yahoo! News, February 24, 2022 — Trump, who was impeached for withholding nearly $400 million in military aid from Ukraine, said 'this deadly Ukraine situation would never have happened' if he were in office
Politico, February 24, 2022 — How the Ukraine invasion connects to Trump's first impeachment — and where the players are now
Vice, February 25, 2022 — US Extremists Have Picked a Side in Ukraine: 'Lol Putin Is Brilliant'
Vice, February 25, 2022 — Why Putin's M.O. Feels So Right to Trumpists
New York Times, February 27, 2022 — How the American Right Stopped Worrying and Learned to Love Russia
The New Yorker, March 1, 2022 — The Ambassador Caught Between Ukraine and Trump
Slate, March 2, 2022 — Zelensky's "Perfect Phone Call" With Trump in 2019 Explains a Lot Right Now
AP News, March 5, 2022 — Trump's praise of Putin, 'America First' view tested by war
Newsweek, March 6, 2022 — Liz Cheney Blasts 'Putin Wing of the GOP' After Ret. Col. Macgregor's Zelensky Remarks
The Hill, March 6, 2022 — Russia and the Republicans
Boston Globe, March 7, 2022 — With Ukraine under attack, Trump's first impeachment is suddenly much more relevant
CNN, March 8, 2022 — This Republican is trying to rewrite the history of Trump's 'perfect' call with Ukraine
NPR, March 8, 2022 — Russia's invasion puts a new light on Trump's Ukraine pressure campaign
Rolling Stone, March 8, 2022 — Fox News' Invasion Expert Is a Trump-Appointed Putin Propagandist Who Thinks Russia Is Being 'Too Gentle'