I don't think the word perquisite gets used enough. You probably know the shortened form of the word: "perk", as in bonus, privilege, advantage or "extra". Here are the perquisites that come with a job at Shopify: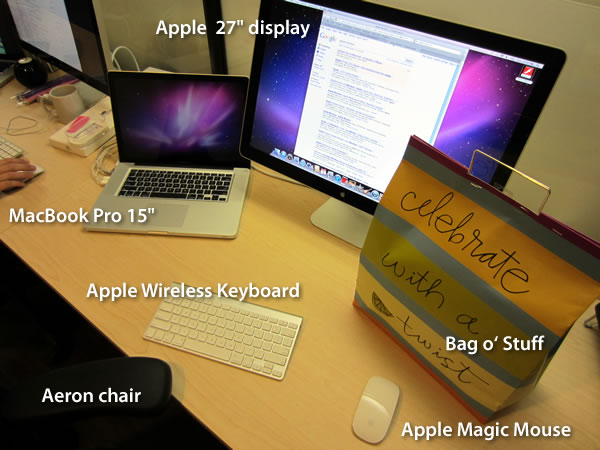 Sweet gear! Working at Shopify means a return to the Mac and startup worlds with the following equipment, which is standard issue for all new employees:
15″ MacBook Pro. The current spec for this machine is 2.2 GHz quad-core i7 processor, 4 GB RAM, 1GB VRAM, 750 GB hard drive. And at last, the trackpad knows what a right-click is!
27″ LED Cinema Display. Gorgeous. Just gorgeous.
Apple Wireless Keyboard. Compact, connects via Bluetooth.
Apple Magic Mouse. The first Apple mouse I've liked in a really long time. Feels nice, knows the difference between a left- and right-click, 4-way touch sensitive scrolling that feels much better than Microsoft's Arc Touch mouse. (I love the Arc Mouse, but don't like the Arc Touch.)
Herman Miller Aeron Chair. Yes, it's the classic symbol of the dot-com bubble, but it's a very, very comfortable chair. The only thing that loves your butt more is that guy from Deliverance.
The bag o' stuff. I'll cover what's in it below.
What's in the bag o' stuff? Extra goodies to make you feel welcome:
Shopify hoodie. Light grey with the Shopify logo on the left. Very warm and fuzzy on the inside.
T-shirts. One light grey sporting a grey monochrome Shopify logo, one dark grey with the green Shopify logo. Both are American Apparel, which means they're extra-soft.
Moleskine notebook. Because sometimes ink and paper is the best way to take something down.
Neat pen. A Sacchi ballpoint pen, to be precise.
Godiva chocolates. It's a nice touch.
$50 Apple Store gift card. An even nicer touch. The Apple Store in Ottawa is in the Rideau Centre, a short walk away from the office.
$100 gift card for Play and Beckta restaurants. Still even nicer. Both are great restaurants — Harley took me out to Play for lunch on my first day. Now to find someone to take out to dinner.
The Shopify Handbook (not pictured), which I'll cover in the next blog entry.
All in all, very, very nice.