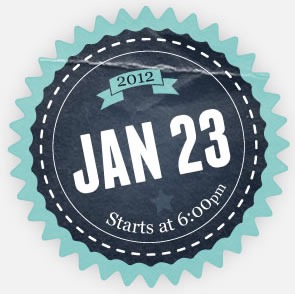 If you're in the Toronto area and looking for a gathering of interesting people in the areas of SEO, social media marketing and selling stuff online, you should come down to Archeo restaurant in the Distillery District and catch the Search and Social Rank Symposium tomorrow night (Monday, January 23rd).
The organizers bill it as an evening where I and a number of other speakers will "showcase weird science at the intersection of search engine optimization (SEO) and social media marketing". Here's a list of the presentations and presenters:
Leverage the Strength of Shopify to Build Your Dream Store, presented by Yours Truly, Joey deVilla, Shopify
As the self proclaimed "Tech Evangelist" Joey deVilla's offers his quirky technical genius through the new e-commerce platform Shopify. Shopify allows online businesses to create and design easy to use digital shop fronts. This widely popular platform is host to over 16,000 retailers, including Angry Birds, Tata, Pixar and Amnesty International. The Queens educated Joey deVilla splits his time as master of Shopify by also writing his immensely popular blog Global Nerdy. If these ventures weren't enough for this fast-paced techno-king he also frequently rocks out onstage as the "Accordion Guy".
Geoff Whitlock is one of the top frontrunners in the interactive media industry. With over 10 years experience he has helmed many different ventures, including President and Lead Digital Strategist for Lifecapture Interactive in Toronto, Research in Motion's new position of Director of Social Media, and finally striking out on his own to create Direct Response Media Group (DRMG). As well as leading the industry in social media marketing, he is the co-founder of Click Clip Deals. Click Clip Deals is the number one online coupon trading site, which has been adapted to become one of the most popular Blackberry and Apple Apps.
Optimizing the P3 Presentation for SEO, presented by Craig Backman, McLellan Group
Craig brings a unique juxtaposition of left and right brain business thinking to his work. He holds a Chemical Engineering degree from the University of Waterloo and an MBA in Marketing and Entrepreneurial Studies from York's Schulich School of Business. He spent 14 years at marketing giant Procter & Gamble where he delivered breakout results in Product Development, Advertising and Sales.
Don't Talk to Strangers: The Art of Smothering Your Brand to Death, presented by Benjamin Allison, Jib Strategic Inc.
Benjamin Allison is a graduate of OCAD University. He has worked in the advertising and design field for more than 12 years. He has been with jib strategic since 2004. He has worked on campaigns for clients such as Apple, Coca Cola, and Honda. Ben is an accomplished musician / composer and brings a unique perspective to his work.
How planting, tending and growing fields of content makes clients rich, presented by Rob Campbell, Lenzr
Rob Campbell, the artist formerly known as Smojoe, is a relevance producer that handcrafts business stories to show up in search engines.  He now manages a clever marketing company called Lenzr Corp that manufactures a natural 'social relevance' for clients using a mixture of proprietary tools that both collect and distribute user submitted content. People listen when he talks process because he's one of the few speakers who will actually get specific with the science and teach empiric knowledge alongside anecdotal accounts of past failures and successes.
TBA, presented by Alex Blom, SalesChoice
Alex Blom is currently the CEO & Co-Founder of SalesChoice, a sales pipeline management and automation tool. Prior, he was the CTO & a Partner of Helix Commerce, where he lead large technology / web initiatives for public, global companies. Prior, he was an organizational troubleshooter and created / exited several web startups.
Want to know more about this event? Check out Rob Campbell's blog entry.
Where and When
The date: Monday, January 23rd, 2012
The place: Archeo restaurant in the Distillery District (55 Mill Street, Toronto)
Doors open / social / food: 6:00 p.m.. Sandwiches and a glass of beer or wine are included with admissions.
Presentations start: 7:00 p.m..
Wifi: will be available at the event
Admission: $25 + HST, available either online or at the door.