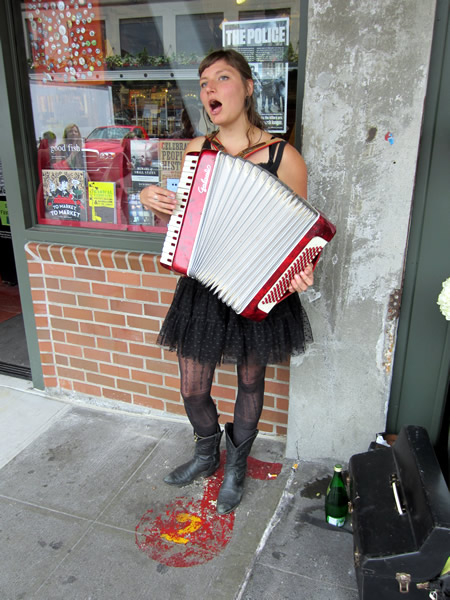 This Morning
"Are you from around here?" asked the waitress at the breakfast restaurant at Hotel Five (I like it, and will write about it soon), where I'm staying while here in Seattle, asked.
"No, I'm from Toronto," I replied.
"I just ask because of the accordion," she said. "It's popping up all over the my neighbourhood. There's a lot of really attractive women who've taken up the accordion there."
"Oh reeeeeeally?" I asked. "Just out of sheer curiosity, not that I'm going to make a beeline for there as soon as I'm finished breakfast, where, uh, do you live?"
"I think I have some drinking scheduled there later tonight."
This Afternoon
"Hey," the busker outside Pike Place Market said, "I like your accordion!"
"Thanks," I replied. "I like yours."
Her name is Mackenzie, and she's got great technique and a lovely voice. The numbers I heard her play were sea-chanty and French folks songs with lyrics translated into English. If you like songs of lost love that have the same flavour as The Decemberists' The Mariner's Revenge Song, you just might like her repertoire.
We talked accordions and even tried each other's on. She was stunned by how light mine was. In the accordion world, "light" is a very relative thing.
"I got it because it fits in just about every airline's overhead compartment," I told her. "I travel a lot."
"Nice action, too!"
Mackenzie's accordion has an vintage accordion feel: it reminds me of "The Chick Magnet", an accordion with strange powers that I still have to take out of storage and get tuned. It has a nice growl to it, and I played Plush by Stone Temple Pilots on it.
"It's a grunge accordion!" I said.
I bought the CD she was selling — she's in a group called The Dandelion Junk Queens — and I'll give it a listen later tonight. Here are a couple of samples I was able to find on YouTube: