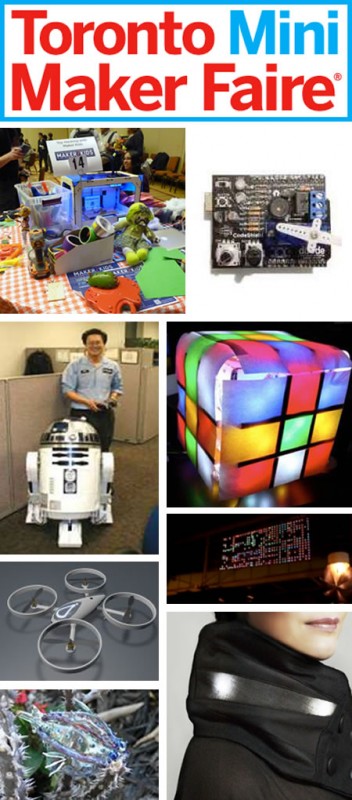 The Toronto Mini Maker Faire takes place this Saturday, September 21st, and Sunday, September 22nd! Billing itself as "a family-friendly showcase of inventions, creativity and resourcefulness," it's a place where you can see cool stuff that you can build, tinker and experiment with, and learn from. It's about the spirit of the "do-it-yourself" or DIY culture and its pursuits both traditional, such as woodworking, metalworking, carpentry, and clothesmaking, and technical, such as electronics, robotics, 3-D printing, and computer programming. It's 21st century "shop" meets "arts and crafts"!
As I said, it's family-friendly, so if you've got kids — or just play doting uncle, aunt, or big brother or sister to some — take them on a fun trip where they'll see cool stuff, learn how to make their own, and maybe even take up an interesting new hobby that will make them makers rather than just mere consumers.
Toronto Mini Maker Faire 2013 takes place on:
Saturday, September 21st, from 10:00 a.m. to 9:00 p.m.
Sunday, September 22nd, from 10 a.m. to 5:30 p.m.
It takes place at Wychwood Barns (76 Wychwood Avenue, a short walk southwest of Bathurst and St. Clair).
Tickets are pretty cheap, as they're being offered at a discount right now:
For adults: $12.50 for Saturday, $12.50 for Sunday (down from $25.00 for each)
For kids: $4.00 for Saturday, $4.00 for Sunday (down from $8.00 for each)
For students, seniors, and unwaged: $7.50 for Saturday, $7.50 for Sunday (down from $15.00 for each)